The 4am Crew was woke, cause it was the first of the month.  The entire crew showed out for this workout, as well as some fresh faces that pushed the competitive atmosphere of the Midwest Mecca.  It was like Old School Gym traveled back to the 1970s, because this chest and back day was straight out of the Golden Era.
It is easy to recognize that the bodybuilders of the Golden Era of Bodybuilding offered arguably the best bodybuilding workouts. The classic style of physique is what many people aspire to look like to this day, however, many people fall short of their goals because they have a misconception of what it takes to get there.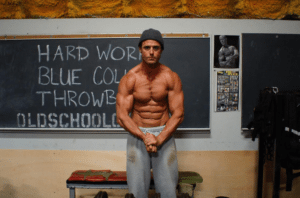 In recent times it seems that "3×10" has been normalized in many cookie cutter programs and magazines, but this rep scheme does not offer a stimulus that will offer noticeable gains over time.  With  workout plans like Get Stacked that prescribe high volume and supersets, Cory Gregory is working to bring back this style of training.  The body needs to be shocked, or as Cory likes to call it, "the crazy."
CoryGFitness offers workout plans that help individuals to lose weight and get shredded, all while getting stronger; they are based on principles that are tried and true, and the results speak for themselves.  It just works.