I'm an average athlete, never got recruited to play any sports in college, and of an average height 5'11.  I come from humble beginnings, growing up in a trailer as you see above.  And I've been mildly obsessed with dunking a basketball my whole life.  My dad didn't share much growing up, but always spoke about wanting to dunk the basketball.  Unfortunately, he was never able to live his dream, so I felt like it was my job to bring him some joy while I played high school basketball.
He absolutely loved it, even though his job as a coal miner, then a truck driver, only allowed him to see 1-2 games per year.He couldn't wait to watch layup lines at the beginning & see me do my bests to throw down circa 1995-1997.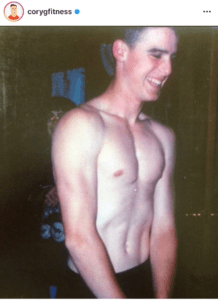 Around seventh grade, the man who taught me how to lift weights, Frank Boone (my grandfather), said if you want to jump higher, you need to do calf raises every day.  I began doing 150 calf raises each day in my trailer.  I began seeing some progress alongside with my natural jumping abilities.
I definitely had some natural ability, but I relied mostly on being as consistent as possible with the little resources I had at my disposal.  We're talking way pre-internet, circa 1992.
Around my sophomore year I tipped the scales at about 155 pounds on my 5'11 frame.  I was jumping the highest I ever had in my entire life.  For a period of 4-6 months, I was able to dunk with two hands off of one foot.  Since then, I haven't been able to replicate this kind of jumping performance since those months of 1995.  I actually sprained my ankle so many times I don't even jump off 1 foot any more.
As a junior in high school, I quickly realized that my way out of my economic situation and living in a trailer, was not going to be basketball.  I was the sixth man, averaging 2.0 points a game, with a broken jumper.  I wasn't going to be a scholarship athlete, nor was I sure if college was the route for me.  All I knew was that I was extremely passionate about lifting weights.  I figured it was time to apply what I had done in basketball to lifting weights… which turned out to be the best move of my life.
Since my junior year in high school, I've never missed more than a week of workouts.  I'll be 42 years old in 2020.  Growing up, I didn't know anyone who did fitness for a job.  Everyone I knew worked at the sawmill, coal mine, or steel mill.  Making consistency a core pillar of my life, I've been able to realize everything I've set out to accomplish, plus more.
Coming back to jumping and dunking at this stage of my life has made me realize that I've never fully reached my potential.  I've competed in drug-free powerlifting, bodybuilding, and shot for the cover for 13 magazines.  I also competed in something called the Muscle Trifecta, which consists of an Olympic lifting competition, bodybuilding show, and powerlifting meet… all in the same weekend.
I've started companies and worked with some great people in my fitness career.  I've learned how to manipulate my body, going from 240 pounds, to just 165 pounds.  I'm constantly experimenting & testing new variables to see what works and what doesn't work.
Throughout my career I've learned that I can be obsessive in nature.  With that, I have an unwavering drive to prove to myself.  I try to live my life without regret as much as possible, and that's why I'm going all-in.  Here is the process.
My name is Cory Gregory.  I'm 42 years old.  And I WANNA DUNK.