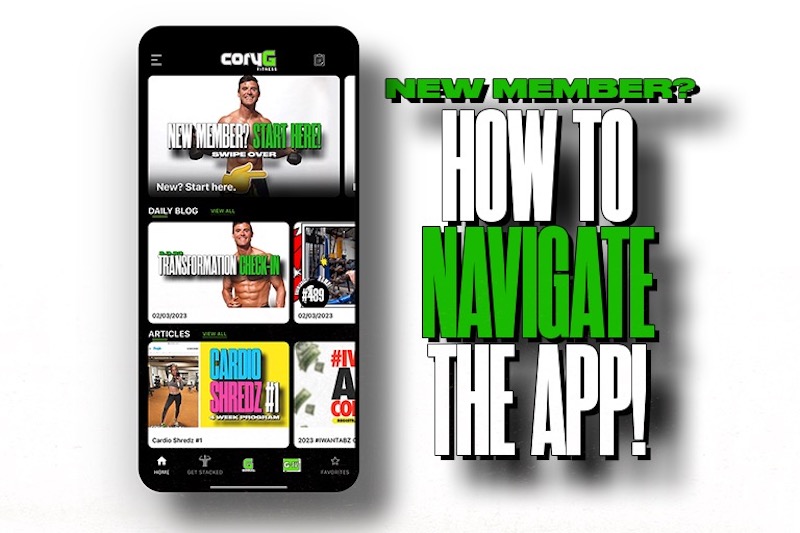 Need help?
In this post, we're going to go over where to begin:
👉 How the CoryG system works
👉 The homepage
👉 The main menu
👉 G-Social
👉 Other helpful nuggets
How the CoryG system works
Thanks again for being a member here at CoryG Fitness!
We're thrilled to have you.
What can you expect going forward? That's what this entire post is about.
Step 1 – If you haven't already downloaded the CoryG Fitness App on the App Store, please do so here.
New Member?
Start on the top slider of the App. Start at slide 1, then swipe over!
CoryG takes you through his 4-step system: Diet/Anabolic Fasting, Training programs, Lunge & Learn (conditioning), Supplementation, and Commonly Asked Questions!
*Special Note: Please please don't skip this step! This will answer 90% of your questions
Top slider
Contains all new member information
Daily blog
Where all new daily content goes!
The daily blog post contains CoryG's personal regimen and some recycled content.
*This is the perfect place to ask your questions. Post in the comments!
Articles
Articles on mindset, motivation, training, nutrition and more posted daily
Videos
All training videos, Knowledge Bombs (training tips), Daily Fires (mindset & motivation), and more posted here every day.
Workout plans
All workout plans can be found here.
Get Stacked = found in the bottom menu of the app
Get Stacked for Athletes = found in the bottom menu of the app
Golden Era Swole = found in the Get Stacked section
Dumbbell Shred = found in the top left main menu
Coach Kiki = found in the top left main menu > Kiki > Training
Kiki McClellan
Woman-specific content on the app. Nutrition, training and mindset.
*Also can be found in the top left main menu under Kiki McClellan
Contest registration
Keep up with current contest registration information (i.e. #IWANTABZ)
G-Social
CoryG's own in-app twitter feed. Ask your questions, post pictures, and interact with other members.
New members
Another section to check out – dedicated to new members
Daily Blog
Takes you to the daily blog
Articles
Takes you to the articles section
Daily challenge
Takes you to a daily workout challenge
Get Stacked
Takes you to all the Get Stacked programs
Dumbbell Shred
Takes you to all the Dumbbell Shred programs
Random ass workouts
All other programs. Squat trainers, power trainers, and other workouts.
Rehab/recovery
More trainers and specialty programs!
Kiki McClellan
All content related to Coach Kiki
Supplements
Check out Max Effort Muscle!
E-Books
Free e-books!
Version 1 recently launched! 
The idea behind G-Social was to provide an in-app Twitter. Post pictures and videos, interact with members, and ask all your questions!
*Can be found in the bottom menu or top left main menu.
Favorites
Wanna book mark a workout or a video? Simply click the ribbon icon next to the cover image.
*You can view all favorites on the bottom right of the homepage bottom menu
G-TV
G-TV in the bottom menu takes you to ALL video categories